I'm a DJ and producer of various kinds of electronic music — house, techno, electro, drum & bass, downtempo, and ambient. You can find a list of my releases (including free downloads of some of my tracks) on the Discography page, some downloadable mix sets on the DJ Mixes page, and some info about the gear and software I use on the Studio page.
You can find me on…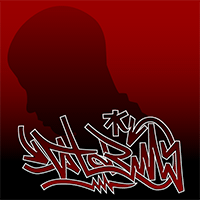 Music has always been a central part of me. I got my first instrument — a toy piano — when I was 2. My family bought a real piano when I was 9, and I started piano lessons at 13. It was around that same time that I started carrying my Walkman everywhere instead of my Game Boy, and by then I knew that music was going to play a key role in my life.
In 1992, I started writing music with the MIDI keyboard and sequencer at my high school, but it wasn't until much later that I was able to afford my own equipment and start producing seriously. In the meantime, I had just discovered the world of underground electronic music, and in 1994 I went to my first rave. That changed everything. From that point on, I pretty much never missed an event, and quickly became involved with many facets of the Calgary rave scene. Later that same year, I started DJing, and in 1995 I began organizing events.
In the following years, I continued DJing, branching out into various genres. Eventually, house became (and still is) my main focus, but I also play downtempo, hip hop, techno, and drum & bass (and of course I listen to just about everything). By 2000, I had collected enough gear to start making music at home, and in particular, when Reason was released in late 2000, I had finally found a tool that worked really well for me, and became serious about producing, That had always been my goal, but now I had the means.
My first track "Flow" was released in 2002, on a compilation called New Sound Theory. Shortly after that track was signed, I had an offer from another label, and started working on my first EP, but alas, I hit a creative wall and got stuck. Unable to achieve the sound I wanted, I spent the next couple years improving my studio and refining my production skills — a world that gets bigger and bigger, the further in you go. I didn't start finishing tracks again until 2004.
In 2005 my second track "Thru An Angel's Eyes" was released on Roxy Re-Modeled (a collection of remixes of classic Roxy Music songs), and at the same time, my track "Arithmatrick" was released along with Reason 3 as one of the included demo songs.
Although I've only released a handful so far, over the years I've worked on hundreds of tracks. The vast majority of those were never finished, but once in awhile, something gets done, and sooner or later I'll have some new music to share with the world.
February 8, 2009